CUSTOM ENGRAVED STAINLESS SIGNS
Our custom engraved stainless signs vary in their shapes, thicknesses, and depths. We have a variety of different laser beams and machines. We use these machines for marking and engraving according to your particular requirements.
The best part is that we have custom-built equipment to meet the unique needs and requirements that you might have. One example of is Custom Engraved Stainless Data Plates. These are absolute necessities when you need to trace, regulate, fix and/or monitor high-value equipments.
We have been fabricating various stainless objects and doing custom engraved work for over thirty years from Cold-Rolled Steel to 316 Stainless Steel. We also offer everything in between and more. If you also need something fabricated or engraved using aluminum, we can as well do that without any problem.
For applications that require marking and identification, Custom Engraved Stainless is definitely a permanent solution.
Stainless steel is also a great material to work with, and it's also super cost-effective.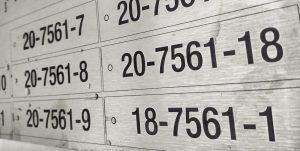 WHY CHOOSE US FOR YOUR CUSTOM ENGRAVED STAINLESS SIGNS ?
We  steel in many gauges and types, including 300 Stainless Steel all the way up to 316 Stainless Steel.
Our lasers also allow us to cut custom shapes, so if you need a very specific shape, laser-cut holes or laser-cut corners, we have all the right tools to help you. Nothing is beyond reach.
If you are also looking for Custom Engraved Stainless Signs, be assured that we are well equipped to custom etch and engrave stainless steel.
We can help you with anything and everything Involving power systems, including things like Data Plates, Pump Plates, Indicator Plates, Steel Serial Plates, and Identification Plates.
Our turn-around time majorly depends on our current stock as well as our availability. To give you an idea, the average lead time is 10-12 business days for custom engraved stainless signs. This starts from the time of artwork approval to the finished product.
In conclusion, we can custom cut and engrave stainless in any size, shape, or gauge! The possibilities are endless. No job is out of reach.
Custom Engraved Stainless Signs is the most permanent process and the best way to mark metal. Custom fabricated Stainless signs s are one of the many services that we offer. Laser Engraving Stainless Steel is the best way to customize it with variable data that may be required when you label, tag or mark a particular piece of gear or equipment. We laser-cut our Stainless signs to any shape with wide format carbon cutters. We custom mark it with various C02 and YAG Lasers to ensure the mark that you require. We take custom engraved stainless signs very seriously . We have the ability to go back and etch or engrave variable data into specific fields "as needed".
Preciseness of Custom Engraved Stainless Signs
So, the preciseness of the laser metal cutter can provide minimal area affected by the heat when cut. You might think this could make the production slower. However, it is quite the opposite.
We can move our machines from one metal to another easily. Our machinery can even cut various thicknesses by programming that for a specific pace. All this saves time in the fabrication process for custom engraved stainless signs. Since most of the time, we must follow a strict timeline and budget, considering the most efficient method for cutting is crucial.
And that is laser-cutting with the laser pros! Mistakes can cost materials. Also, investing in complex programming can add extra time to job order, and in the end, make it more expensive. That's why the efficiency in handling time, quantity, and variety of materials you can work with are advantages highlighted in this method.
When you need something done right the first time, like Custom Cutting Engraved Stainless Signs, we're the shop that you should turn to. Custom Cutting And Engraving  Signs are just one of our many specialties and we'll make your product look great without a doubt! We're the go-to people for all sorts of work, from weapons, nameplates, signs, data plates and even live fruit. We love helping our customers put their mark on the world. As custom engravers, it's our sworn mission to laser up as many things as we possibly can. All you need to do is point us at a target, and we'll get to work for you. We love to laser! We just can't stop.If you need your parts laser engraved – we can certainly help with that as well! Click here!
Custom Engraved Stainless Signs