CUSTOM CUTTING STAINLESS SHEETS
A great thing about lasers is that they can effortlessly cut through many different surfaces and materials, including custom cutting stainless sheets. Our laser machines do a great job at cutting stainless steel sheets regardless of size because we have both small and big laser machines. Other than stainless steel, they can also cut on any other material that you might have in mind.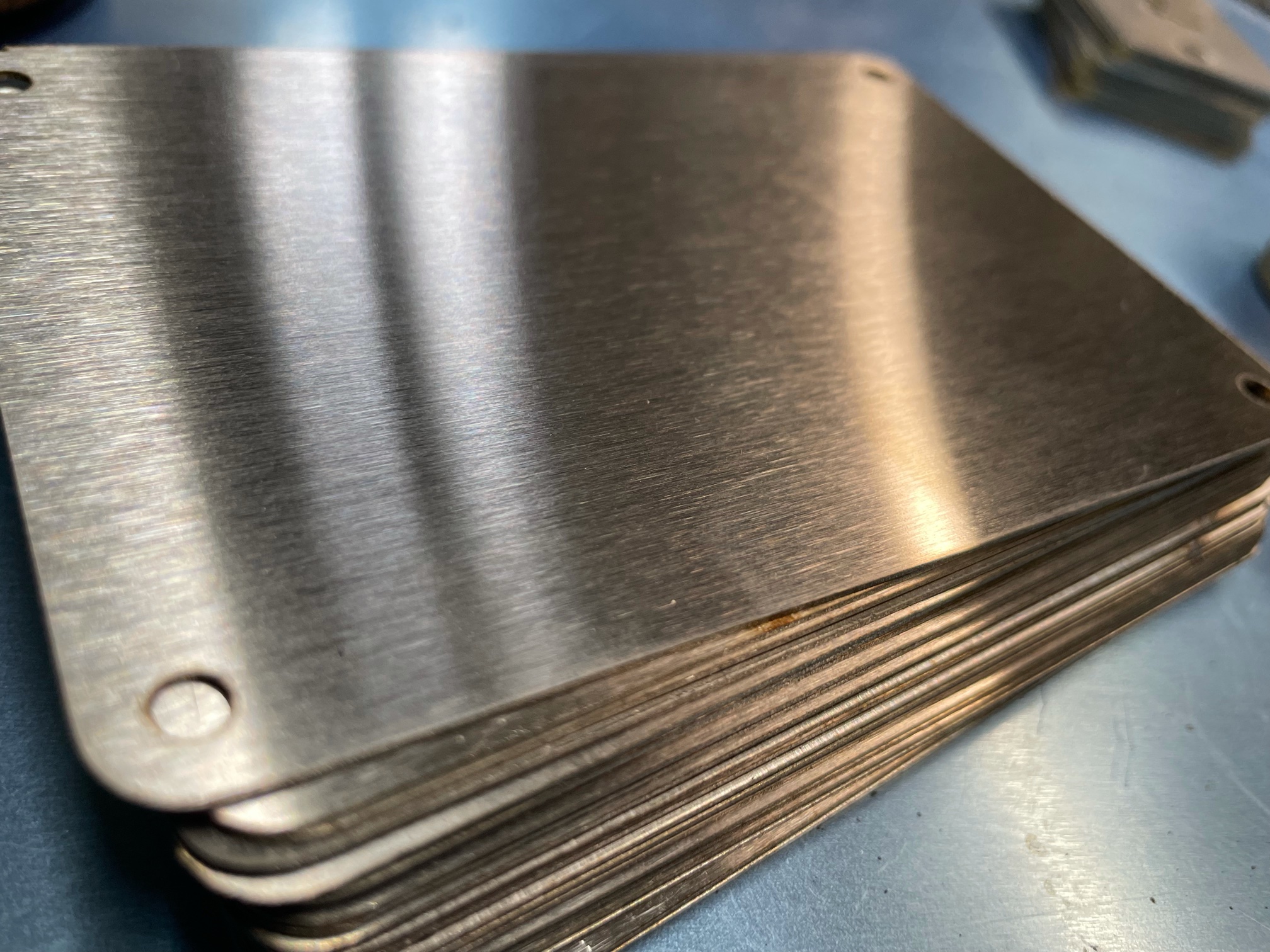 Our experts can help you get the exact result that you are looking for your Custom Cutting Stainless Sheets. Whether you want light marks, dark, deep, or superficial marks, we can do it for you. The best part about the products that we create is that they will last a lifetime while ensuring perfect end results. If you have stainless steel sheets that you want our laser experts and technicians to laser cut and produce something amazing out of it, all you have to do is let us know what you have in mind. In case you aren't too sure about what you want, you can trust our team of experts to take the lead and deliver the best results.
Custom Cutting Stainless Sheets is the most permanent process and the best way to mark metal. Custom Cutting Stainless Sheets are one of the many services that we offer. Laser Engraving Stainless Steel is the best way to customize it with variable data that may be required when you label, tag or mark a particular piece of gear or equipment. We laser-cut our Stainless Steel to any shape with wide format carbon cutters. We custom mark it with various C02 and YAG Lasers to ensure the mark that you require. We take Laser Engraving Stainless Steel very seriously. We have the ability to go back and etch or engrave variable data into specific fields "as needed".
Preciseness – Aka Precision or Precision-ness
So, the preciseness of the laser metal cutter can provide minimal area affected by the heat when cut. You might think this could make the production slower. However, it is quite the opposite. We can move our machines from one metal to another easily. Our machinery can even cut various thicknesses by programming that for a specific pace. All this saves time in the fabrication process. Since most of the time, we must follow a strict timeline and budget, considering the most efficient method for cutting is crucial. And that is laser-cutting with the laser pros! Mistakes can cost materials. Also, investing in complex programming can add extra time to job order, and in the end, make it more expensive. That's why the efficiency in handling time, quantity, and variety of materials you can work with are advantages highlighted in this method.
You can get custom stainless sheets with us. Whatever you want, you can let us know by filling out the form below or emailing us, or calling us at (804) 234-4990 Mon-Fri 9 AM-5 PM EST.
Be as specific or as vague as you want, and we assure you that we will have you covered.
Once you fill out the form, we will quote you an estimate based on your requirements for your Custom Cutting Stainless Sheets.You can either let us choose the material for your project or even send us your own that you want us to work on. Once we are done with your order, we will have the product shipped over through UPS. We ship worldwide, so you don't have to worry about that with your Custom Cutting Stainless Sheets! We can't wait to hear about your Custom Cutting Stainless Sheets projects!
When you need something done right the first time, we're the shop that you should turn to. Custom laser cut sheets are just one of our many specialties and we'll make your product look great without a doubt! We're the go-to people for all sorts of work, from weapons, nameplates, signs, data plates and even live fruit. We love helping our customers put their mark on the world. As custom engravers, it's our sworn mission to laser up as many things as we possibly can. All you need to do is point us at a target, and we'll get to work for you. We love to laser! We just can't stop.If you need your parts laser engraved – we can certainly help with that as well! Click here!
Custom Cutting Stainless Sheets
Call Us: 800-482-1553