METAL SIGNS LASER CUT FROM ALUMINUM OR STAINLESS
Laser-cut signage has widespread use. Whether you want a metal signboard for your office or a nameplate for your home, we have experience on how to make it for you, metal signs laser cut.
We are experts at laser cutting metal signage as cater for your needs to perfection with our custom laser-cut metal signage.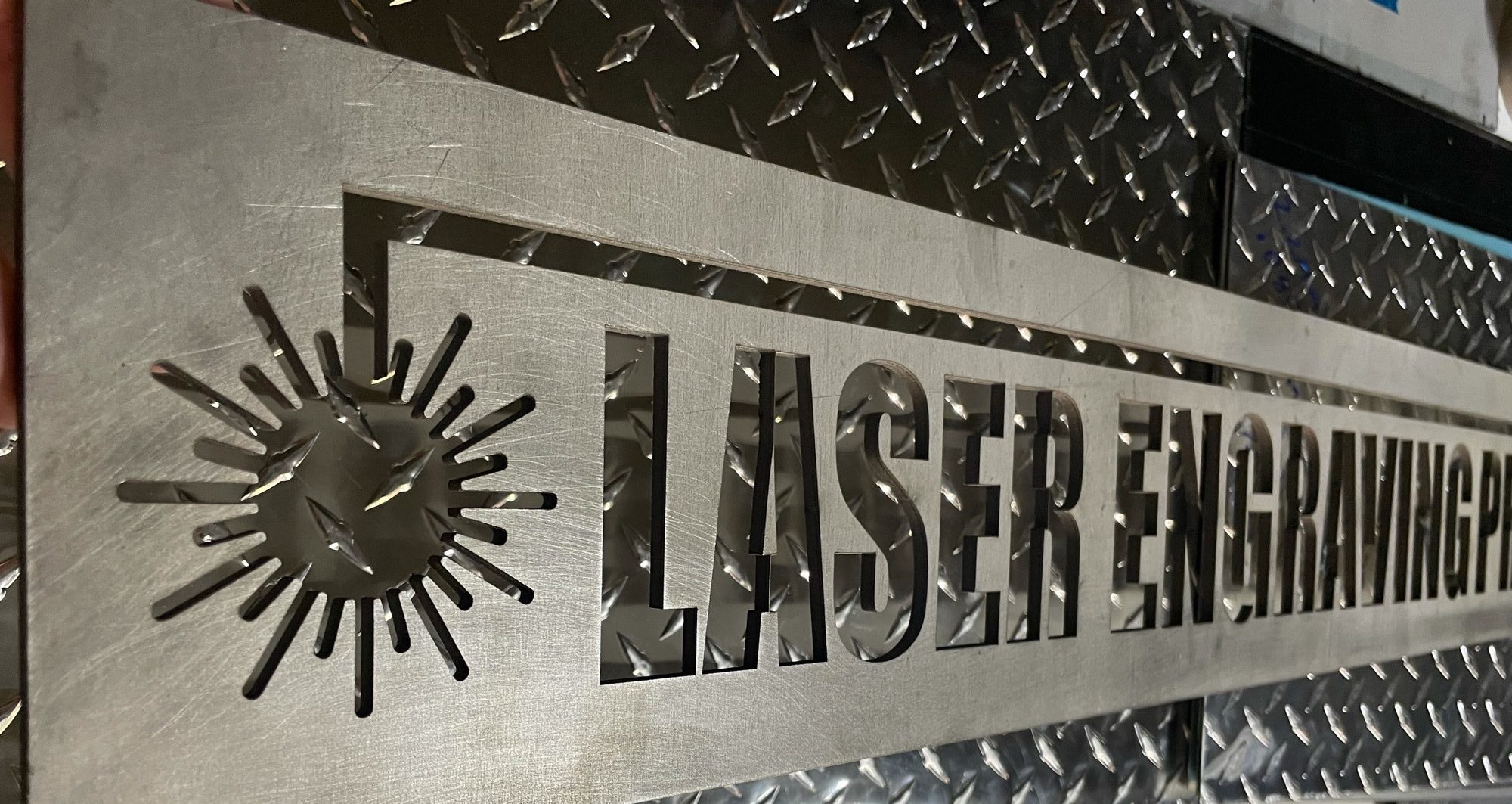 Have you ever wondered why laser cut metal signs are a great options for any project ? With metal resilience and the technology available with laser-cut metal, it is possible to create metal signs with accuracy and high-resolution graphics. Many custom industrial signs are made of metal because of their durability and customizable settings. We usually use laser cutting to the outer contours of the metal signs. You can also shape the general design of the metal. Then, you decide on the customization part! These techniques are very beneficial, making this process popular. Want to know some applications of laser-cut metal signs and why you should choose this method for your projects? Come along with the Laser Cutting Pros!
Why choose laser cut metal signs?
You probably have already seen several laser metal signs outdoors. This happens because they are very durable products. Their resistance to different types of weather makes them perfect to be an outdoor sign. In addition, they have protection from exposure to UV rays and other environmental factors and common contaminants. Metal is also highly low-maintenance, which can be a great plus for you. You can find metal signs in areas that are hard to reach, like on a high exterior location. But because they are so durable, you don't need to worry about maintenance. You can just enjoy your always-on fashion sign resistant to weather, and that does not require constant maintenance. You can also add laser-cut metal signs in indoor settings. Whatever you need, we can laser-cut it for you! You can really use your imagination with the laser cutting metal signs process since it can create unique shapes that meet any expectations. So, get ready to share your ideas with us, and we will take care of the rest! Laser-cut  signs are present in several different industries once it is customizable to match diverse locations and pieces of equipment around them.
WHY CHOOSE US FOR YOUR METAL SIGNS LASER CUT FROM ALUMINIUM OR STAINLESS?
We've got the latest laser cutting equipment that we use to make precisely cut metal signage. No matter how complicated whatever you`ve got in my is, our experts know how to use the laser beam to create just what you need.
We've got plenty of laser cut signage ready-made for you to choose from and we also cater for your needs of custom-made laser cut metal signage.
Whatever your needs are, we're here to help you with the best quality, highly precise laser-cut metal signage.
We make all sorts of laser-cut metal signage either big or small, long or short.
Our highly-trained technicians know their way around laser cutting like no one else.
Simply give us a call at (804) 234-4990 between 9AM and 5pm EST Monday through Friday, or fill out the form by following the link below.
Let us know what you need and have us create just what you've got in mind!
When you need something done right the first time, like custom laser metal signs, we're the shop that you should turn to. Custom laser cut metal signs is just one of our many specialties and we'll make your product look great without a doubt! We're the go-to people for all sorts of work, from weapons, nameplates, signs, data plates and even live fruit. We love helping our customers put their mark on the world. As custom engravers, it's our sworn mission to laser up as many things as we possibly can. All you need to do is point us at a target, and we'll get to work for you. We love to laser! We just can't stop. If you need your parts laser engraved – we can certainly help with that as well! Click here!
Metal Signs Laser Cut
Got a Project? Fill Out This Quick RFQ Form – OR – Email Us Directly!
Call Us: 800-482-1553