Giant Metal Signs – What You Need to Know
Have you ever passed any giant metal signs and wondered how they are made? Here, you will learn that and discover some of the many types of giant metal signs. Metal is a strong material that can resist many adversities like different weather conditions. Especially those made with laser-cut technology can also be customized. We can do that for you! You can customize your giant metal signs with the laser cutting pros!Usually, outdoor metal signs are made differently from indoor metal signs. For example, they can have two aluminum layers and a thick plastic core in the middle. This way, it is possible to avoid problems like rustiness. 
Aluminum is the go-to for those purposes because of its lightweights and versatility to cut into different shapes. We can laser-cut giant metal signs made of aluminum in any form you desire for your project. Aluminum is also a fade-resistant metal due to its UV protection. This means a longer lifespan for your giant metal sign. You can also transport it with no problem, and it is easy to install. To get familiar with the process of laser cutting giant metal signs, keep reading! 
Laser-cutting metal 
Laser-cutting is a highly accurate process. This is possible because of its small heat-affected zone and kerf width. Lasers can cut many different types of metal like aluminum plates and stainless steel.Laser cutting can provide many different options for signs. You choose, and we cut! Flat-panel cutouts or even edge-lit designs, or any other type you have in mind. This technology can also cut and engrave three-dimensional designs. All of it while being super precise and without touching the substrate.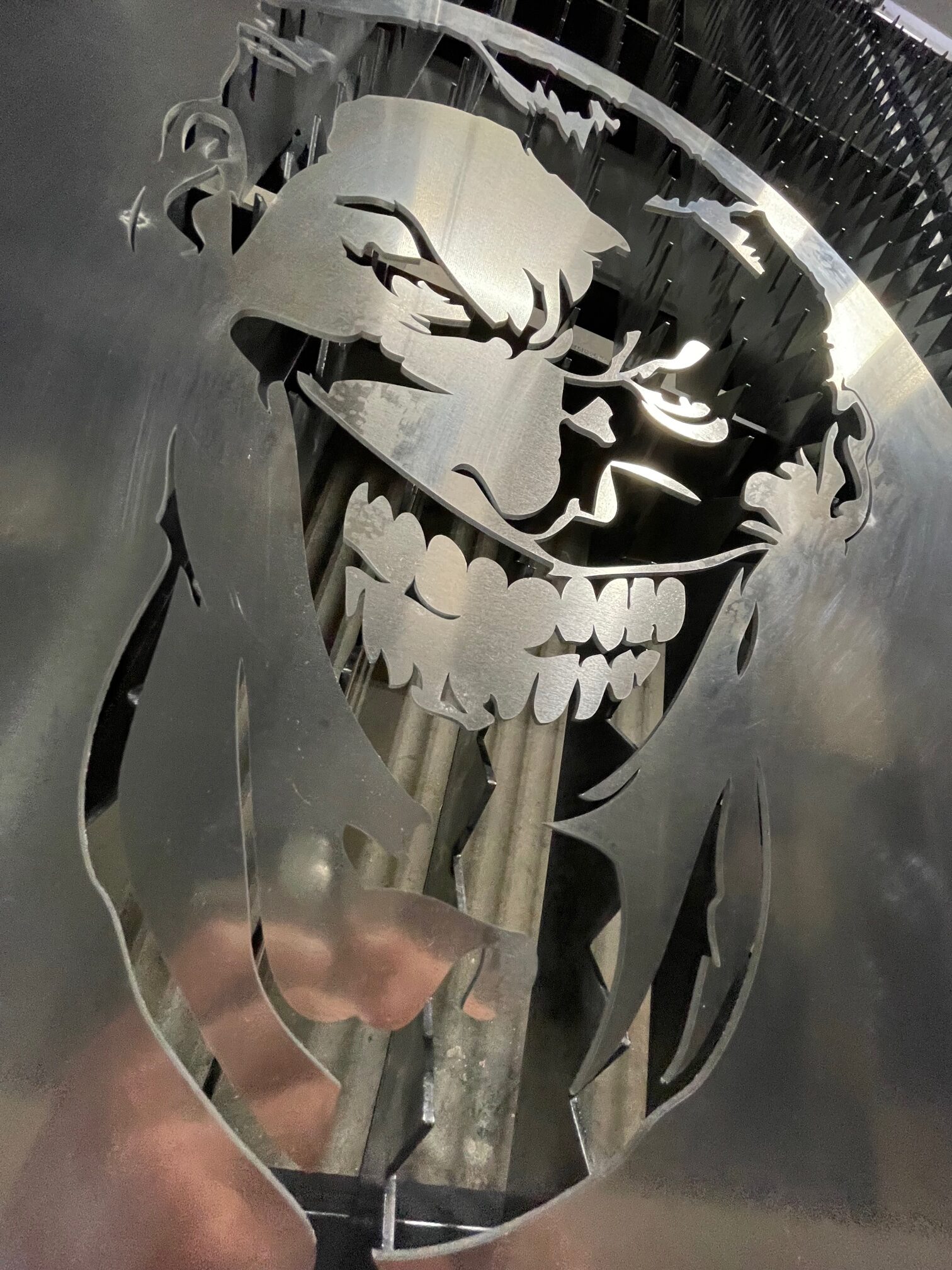 Types of giant metal signs
There are several ways you can have a giant metal sign. One of them is an outdoor sign. This one is widespread and used for advertising purposes or as a company's name sign, whether it is a restaurant, a pharmacy, or any kind of business. Whatever the goal, choosing an outdoor giant metal sign is a good choice because of its resistance to different kinds of weather. Another common type of giant metal sign is the reflective one. You can use reflective signs for signaling: street signs, parking signs, etc. Now, if we are talking giant ones, they usually are way-finding signs, like the ones you can find in a mall garage or in a park. They are great in different lights and are an excellent option for nighttime signage, and can also be chosen for advertising purposes since you can see them from anywhere. We can also make giant 3D letter metal signs with laser-cut technology. You can find this type of giant metal sign in front of a building or as part of the town sign. There are several options to choose from: titanium, stainless steel, aluminum, copper, and bronze. We will customize them according to your needs and expectations. 
What can we do?
If you want versatile, durable, customizable giant metal signs, we can laser-cut them for you! We are the Laser Cutting Pros. Our passion for laser-cutting metal parts, regardless of the size, shape, and material type is real!We are ready and more than happy to take on your idea of giant metal signs and execute them efficiently for you. Our over 130 years of expertise in the market and a top-notch team of experts allow us to accurately laser-cut and engrave anything you need! We are excited to laser-cut your giant metal signs for you!If you need your parts laser engraved – we can certainly help with that as well! Click here!
Got a Project?
– OR –
800-482-1553